TGIF is a weekly meme that can be found over at greadsbooks.com. Every week you can find a question that is bound to get you thinking.
We tend to gush over those main characters the most, but what about those supporting roles? Who are some of your favorites?
My favourite supporting characters all come from series. I suppose that this is because it allows me to get to know them more through appearances in different story lines and situations.
1. Peabody from J.D. Robb's 'In Death' series.
Peabody is the main characters aide and trainee and I am loving watching her character develop and learning more about her through the books.
My 2nd and 3rd characters are from the same series, 'The Tales of the Frog Princess' by E.D. Baker – these books are brilliant fun by the way and I can't recommend them enough.
2. My 2nd fav character is on who is not a recurring character – he only shows up in the first book but he really made an impression on me. He is Fang the snake. He is so gallant and such a gentlemen, I loved him to bits.
3. Next we have Li'l the bat. She is so cute and her personality is adorable – and not to mention she has her own little story line (a Vampire fall in love with her – see I bet THAT makes you want to read these books doesn't it?
) I am living in hope that Li'l will get a whole book of her own in the future.
4. And last but not least we have Murtagh from Outlander by Diana Gabaldon. I actually fell in love with this guy a bit. I loved his personality. He was definitely a man whose actions spoke for him
.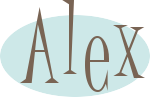 (TGIF Graphic is from GReads
)