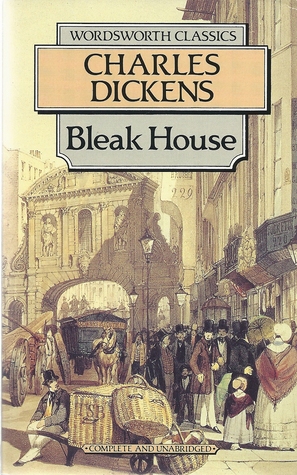 SPOILERS FOR CHAPTERS 1-4
Charles Dickens is a funny guy. I have read other books by him and this is a re-read for Bleak House but I will honestly say that I have never caught onto his humour before like I have now. It is a dry, witty humour. The kind that had me laughing, stopping, and then wondering if I should be. Needless to say these moments of doubt ended with a shrug and a 'Whatever, I thought it was funny!' It is a sneaky sort of humour that just came up on me out of the London fog and pounced.
Another thing is the atmosphere. The fog, the mud, the smells, even down to the fog sneaking into the buildings was amazing.
Characters!
Yeah, I suppose I had better mention some people.
We are introduced to the Chancery court and some of the people - both officials and those with cases – involved there in chapter 1.
Quite a bit of description is dedicated to Lady Dedlock when we meet her in chapter 2 and she struck me as being a bit of a snob and more than aware of her position and looks.
Chapter 3 and 4 are through Esther's eyes and through her we meet a variety of other characters, most important of them being Ada and Richard who are wards in the Jarndyce and Jarndyce chancery case (a case that has been going on for years and gets nowhere).
There is also an unhinged (or is she?) old lady from court and the depressed Miss Jellyby whose mother neglects her and her other children in favour of her charitable works.
Esther struck me as being just a little too nice, humble and understanding of all things. I am really hoping that this won't grate on me as the book goes on.
Just because I found her a little annoying doesn't mean I didn't feel angry on her behalf though. I got really agitated when reading over how she was treated as a child. She is given the idea that she is easily left and dismissible. It is because of this that she sets out to make herself caring and helpful in hopes of receiving some affection back. I feel really sad for her.
Questions brought up
Just who is the kind but elusive Mr Jarndyce?
Why was Esther's aunt such a meanie? Seriously, Esther didn't even know they were related until the woman died!
Why did some handwriting cause the seemingly emotionless Lady Dedlock to become 'faint'?
And most importantly…
Why is she so bored?
See you next week!