Q: If you could "unread" a book, which one would it be? Is it because you want to start over and experience it again for the first time? Or because it was THAT bad?
Switched by Amanda Hocking. I wish I could strike this book from my mind. I hated it!!! Bugged the life out of me. Normally if a book annoys me this much I can find SOMETHING (ANYTHING) to redeem it in my eyes. Not so with this book.
Now I realise that this opinion is not shared by everyone as it is a VERY successful series.
But for me…*reaches for the brain tipex*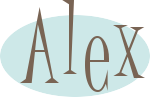 Don't forget
The giveaway for the Book Blogger Planner I made is still open.
Find out more and enter here
:)